Acne Rosacea Treatment
Natural Skincare Control

Effective Rosacea Treatment clears up acne rosacea at home using natural skincare treatments of DPL light therapy. Control and get rid of acne rosacea, adult acne and red face problems, once and for all.




You can now control and for some get rid of acne rosacea facial problems.

No messy creams and no drugs!

I imagine you have done your due diligent research and landed here because you are looking for new effective home skincare treatments for treating acne rosacea, adult acne and other common facial skin diseases.

Are you sick and tired of not getting the result you want? Then keep on read.




Treating And Controlling
Acne Rosacea At Home Naturally...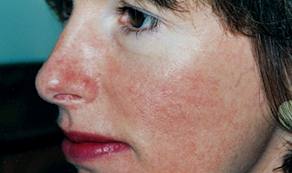 For The Serious Natural And Effective
Acne Rosacea Treatment Seeker..!!


This is for the serious natural and effective rosacea treatment seeker..!! Because you have probably tried everything from OTC's to products like Zenmed or the controversial DMSO (Dimethylsulfoxide).
Or perhaps, you have gone as far as getting a prescription for oral or topical use such as accutane (isotretinoin), tetracycline (antibiotic precautions) or metronidazole.
But you just can't get the results you need and want.

Whatever your case maybe, you got here looking for naturally effective ways to treat and control your rosacea.
Your due diligence has paid off..!!

100% Natural Adult Acne Treatment


Here you will discover how to treat your acne rosacea skin problems effectively and 100% naturally at home.
And best of all, it's not just for acne rosacea, adult acne, facial flushing or face rash, but a complete facial skin rejuvenation with DPL light therapy.
Dermatologists, doctors, physical therapist, medi spas and hospitals all use light therapy for the control and clearing of skin problems and diseases.

Including treating hyper-pigmentation, and even wrinkles and age spots; to name a few of the aging skin disorders that light therapy is used to treat and manage.
DPL light therapy is an effective home skincare treatment & control for many skin conditions; including wrinkles and loss of collagen due to aging skin.

The DPL Therapy System is FDA approved for home use and is making huge strides in the aid of acne rosacea treatments for natural skincare treatments and repair, for many skin conditions and overall skin problems.
This light therapy works from the inside out, conditioning and removing toxins from your skin, deep within the cellular level while rejuvenating the skins surface.

Over 40 years of Independent research and NASA Research has shown LED Red and Infrared light delivers powerful therapeutic benefits to living tissue. DPL® Therapy application is a proprietary design based on NASA research and activates skin cells with low-level, non-thermal light energy.

Effective Rosacea Treatment Home Skincare System...


DPL light therapy is not only effective, but it is safe and non invasive. It is a complete all natural  home skincare system.

It helps get rid of acne rosacea, mottled skin tone, flushing, age spots and a multitude of skin problems.

In fact, it is a dual system that relieves both signs of aging; pain and skin, providing an alternative anti aging skin rejuvenation and relief from pain and stiffness.


How The DPL Therapy System Works...


Increases vascular circulation which increases formation of new capillaries that replaces the damaged ones. New capillaries speed up the healing process by carrying more oxygen as well as more nutrients needed for healing and also carry more waste products away.
Red light (wavelength 630nm-640nm) has a significant effect on mitochondrial stimulation, which increases the production of ATP adenosine triphosphate (ATP). ATP is the major carrier of energy to all cells and in turn boosts fibroblast activity. This leads to an increase in cellular turnover, superficial circulation, and an anti-inflammatory emission.
Infrared light (IR) (wavelength 800nm - 900nm) energy penetrates tissue at a greater depth than the Blue and Red light. IR stimulates the lymphatic system activity; Edema, which is the swelling or natural splinting process of the body and has two basic components. The first is a liquid part, which can be evacuated by the blood system, and the second is comprised of the proteins, which have to be evacuated by the lymphatic system.

Naturally Effective Adult Acne Skincare...


Light therapy also increase RNA and DNA synthesis. This helps damaged cells replace more promptly and reduces the excitability of nervous tissue and removes excess fibrin and scar tissue.

DPL light therapy system home skincare system is an affordable way to naturally effective treat and help get rid of adult acne rosacea.
Frustrated and tired of looking for naturally effective rosacea treatments, then look no further..!!
Using the DPL light therapy system daily as your rosacea home skincare treatment , you will see results within a week and dramatic results with in few weeks.
No drugs, no side effects just clear smooth skin.

Recommended Use Of The DPL® Light Therapy
For Control Of Adult Acne Rosacea And Skincare...


For rosacea treatment, red face, face rash, adult acne and many other skin conditions the recommend use is two 9 minutes sessions or a 17 minute session per day.

You will be amazed at how great your skin will look and feel and, how it responds to your new 100% natural skincare treatments!



Read more of this relaxing & soothing alternative rosacea treatment get that clear complexion you have been striving for!

---

Anti Aging Skin Care Resource Pages:


Types of Rosacea - Exfoliating Your Skin - Skin Care Habits
Skin Conditioning Products - Facial Exercises - Skin Firming

---