Potent Natural Face Oils
Can Bring Metamorphic
Changes To Your Skin

Welcome to the world of potent natural face oils, a treasure trove of potent botanical extracts ready to elevate your skin's beauty and health.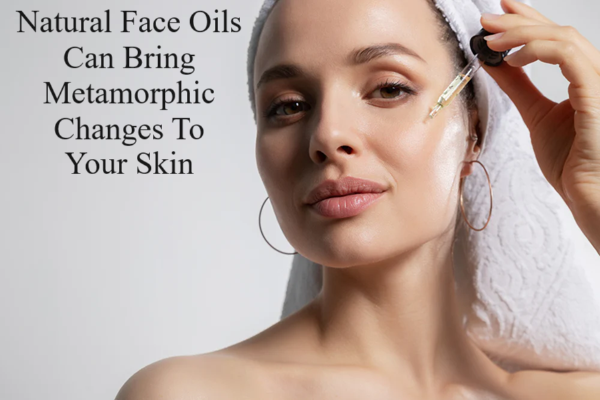 Witness The Transformation Of Your Skin
With regular usage, these elixirs can help you witness the transformation of your skin into a softer, glowing and younger-looking version of itself.
Natural face oil has been embraced by many as the future of skincare, although these healing oils have a rich, age-old tradition of medicinal use. Extracted directly from plants, these oils ensure purity, safety, and effectiveness in providing balance and significant improvements to your skin's
Bursting with nature's goodness, face oils provide unparalleled nourishment and hydration without any harmful chemicals, making these oils indispensable in your skincare regimen.
They also offer the skin an extra layer of protection against harsh environmental factors, contributing to maintaining its youthful glow.
As your age progresses, your skin needs extra care. Natural face oils can be the golden ticket towards achieving youthful skin, combating signs of aging, reducing wrinkles and fine lines, improving skin elasticity, and restoring your skin's vitality.
There's A Wide Array Of Potent Natural Face Oils Available, Each Promising Unique Benefits.
However, five potent natural face oils have stood out in reviews, ongoing research, and their consistent ability to deliver results.

First On The List Is Jojoba Oil.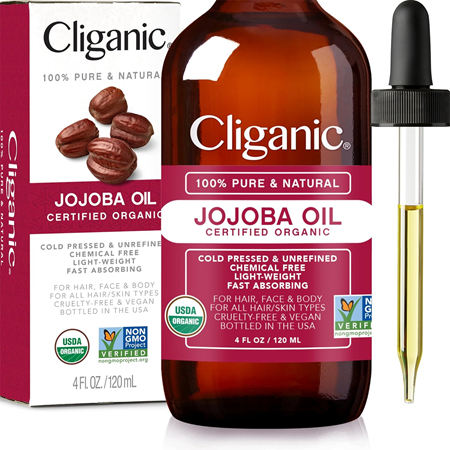 As a hydrating agent, jojoba oil is second to none, earning its reputation as the ultimate hydration solution by beauty experts worldwide.
Imitating the consistency of your skin's natural oil, it offers profound moisture, promotes skin balance, and slows down the appearance of aging signs, making your skin plump and radiant.
AND,

It's rich in vitamins and minerals
Jojoba oil is made up of Vitamin E, Vitamin B complex, copper and zinc.
And if you're looking for an anti-inflammatory ingredient, jojoba oil also fits the bill.
Then There Is Rosehip Oil, Appreciated For Its Regrowth And Rejuvenation Properties.
Rosehip oil is bundant in Vitamins A and C which aids in cell regeneration, reducing fine lines, and brightening the skin.
With the the abundance of Vitamin A it can help stimulate collagen and improve the appearance of wrinkles.
It also contains essential fatty acids such as:
oleic acid
palmitic acid
linoleic acid
gamma linolenic acid
These fatty acids are anti-inflammatory and can improve signs of aging, pigmentation and moisturize the skin.
And, with its anti-inflammatory benefits makes it an ideal choice for tackling adult acne or rosacea.
How Do These Potent Natural Face Oils Differ From Other Skincare Product Types Like Serums, Lotions, Face Butter, And Creams?
Well, high-quality face oils absorb better, and their benefits are much more enduring.
Unlike creams that are mostly water, potent natural face oils penetrate deeper levels of the skin, offering longer-lasting hydration and deeper nourishment. They also form a protective barrier on the skin, guarding against moisture loss.
Face oils, being lipid-based, fuse seamlessly with the skin's lipid layer, strengthening your skin's barrier and maintaining hydration. This enhances the skin's resilience and locking in the oil's nourishing components for longer.
Argan Oil Is Another Standout.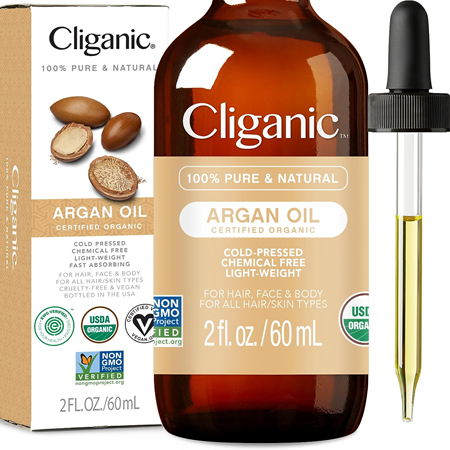 As a rich source of Vitamin E and fatty acids, this natural oil offers substantial hydration, reduces fine lines, and increases skin elasticity.
It's also known for its healing properties, helping to calm inflamed skin and repair skin damage.
Argan oil's anti-inflammatory and antioxidant properties can treat oily skin and acne.
Argan oil regulates sebum production so your skin is hydrated and won't begin to overproduce.
When used topically, argan oil may irritate the skin. This may be a more common reaction with those who have tree nut allergies.
When Compared To Serums, Natural Face Oils Are Richer And Provide A Greater Concentration Of Active Ingredients.
They additionally act as an excellent sealing layer over your skin, enhancing the effectiveness of other skincare products applied before the oil.
In essence, face oils offer the benefits of several skincare products in one, making them an economical and effective choice for people seeking natural skincare solutions.
Safety is another significant advantage of natural face oils. Made from pure plant extracts, these oils are devoid of harmful chemicals, reducing the risk of skin irritation and allergic reactions.
On top of that, many dermatologists recommend incorporating face oils into daily skincare routine, especially for those with dry or aging skin; it's why you can trust these oils to bring you that much-desired youthful glow.
Next Is Pomegranate Seed Oil, A True Savior For Mature Skin.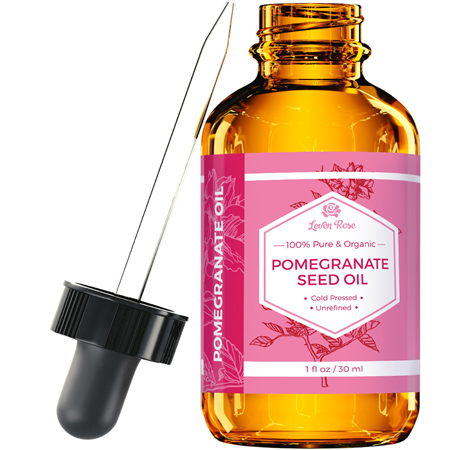 Its potent antioxidant properties work wonders against wrinkles, keeping your skin younger and healthier.
It also has the ability to protect the skin from damaging environmental factors and UV radiation
Luckily, we can use pomegranate oil to slow the aging process, while improving overall firmness and elasticity.
This is thanks to its supply of vitamin C, punicic and linoleic acids, while a spectrum of other antioxidants work to improve circulation and brighten the skin.
Since punicic acid in pomegranate seed oil slows the aging of skin cells, using it can visibly reduce signs of aging.
Lastly, There Is The Marula Oil, A Luxurious Oil Known For Hydrating And Improving Skin Elasticity.
It also claims the highest antioxidant levels among all face oils, making it a potent anti-aging oil that safeguards your skin against aging factors.
Drunk Elephant's beloved Marula face oil is rich in antioxidants and omega fatty acids, which dermatologist Dr. Marisa Garshick, MD, says will leave the skin glowing. "It can even help to improve the appearance of fine lines and wrinkles while also addressing dryness and dullness. It's a great option for those with sensitive skin, too."
Because Drunk Elephant's luxurious products tend to be quite pricey, this is definitely one of the more affordable products you should check out if you've been wanting to try the brand.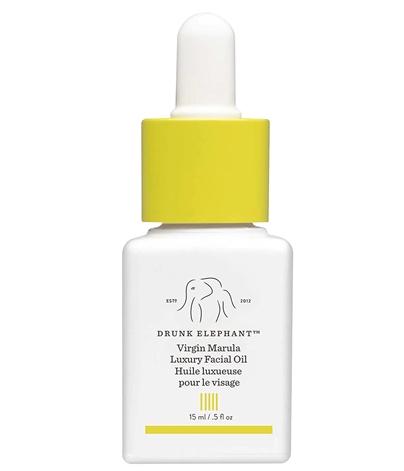 Remember: Consistent usage is the key to yielding the best results. Persisting in your oils application daily could ultimately lead you to the youthful, radiant skin you've been longing for.
Using these potent natural face oils is also making a choice towards sustainable skincare as well. It's a pleasurable journey anchored in purity, empowerment, and sustainability, setting the path towards an incredible future rooted in nature's wisdom.
When browsing for natural face oils, ensure to look for those that are minimally processed and free from added fillers or synthetic fragrances to fully reap the benefits that nature has to offer.
In today's fast-paced, stress-laden life, taking some time off to cater to your skin's needs using nature's purest ingredients is a luxury. Why not pamper your skin to this luxurious, natural boon?
Embrace natural face oils and research your skin type and needs to select the most compatible oil. You can customize and experiment until you discover what adds that extra spark and vitality to your skin.
The Value These Oils Bring To Your Skin Makes Them More Than Worth Their Weight In Gold.
As these oils gradually soothe, hydrate, and rejuvenate your complexion, you will realize they were the missing piece in your skincare routine all along.
Unlock the diverse realm of these potent botanicals and become an advocate for natural skincare. Include natural face oils in your beauty arsenal, and walk towards achieving the glow of healthy, younger-looking skin.
Remember, your skin deserves the best, and nature's best gift to skin is undoubtedly its oils. So, welcome to the world of potent natural face oils, a journey to healthier, vibrant skin, and a natural solution that's truly worth the glow.
You Might Also Like

---